Complaint and Dispute Procedures
1. Complaints and Disputes
Complaints and Disputes are procedures for reimbursement of damages incurred in connection with Overseas small amount remittance pursuant to Article 13 of the Terms and Conditions of ReLe Transfer. All processing reflects the justifiable opinions or complaints raised by customers regarding unfair business processing, financial disputes, and electronic financial accidents of ReLe Transfer's overseas remittances.
2. How to register a complaint and dispute
- Head of Dispute Resolution : Seok Wan Cho
- Dispute handling person : Jun-hee Yeo (Korean), Nguyen Chau (English, Vietnamese)
- Contact : 02-786-8203
- Email : rele@finger.co.kr
- FAX : 02-799-2500
3. Details of Complaints and Disputes
- Name / Remittance Country / Remittance Application Date / Remittance Application Amount
- Details on complaints and disputes related to overseas remittances
Ex) Remittance completed, but no payee deposit
Ex) Remittance application amount and payee amount are different
- Contact Information to Receive
4. Complaint and Dispute Resolution Process
ReLe Transfer will process your complaints and disputes according to the following procedure.
① Immediately delivers to the person in charge of dispute handling when a complaint is received by telephone / e-mail / fax, etc.
② The person in charge classifies the customer's complaint whether the complaint can be resolved immediately or if the claim is for compensation
③ Discuss with the remittance country representative to resolve the complaint. (E.g. delayed remittance due to computer status of recipient)
④ The person in charge of dispute processing analyzes the solution/li>
⑤ You can receive an answer within 1 day after submitting your complaint.
⑥ Check the details of your request for compensation for serious damage during international remittance.
⑦ You will be notified of the confirmation of receipt of your request.
⑧ The case is analyzed by the person in charge of dispute handling, the person in charge of dispute handling and the person in charge of the remittance country.
⑨ You can receive an answer to your complaint within 5 days.
⑩ If you are dissatisfied with the notice or need an objection, you can submit it to the Financial Supervisory Service Mediation Committee.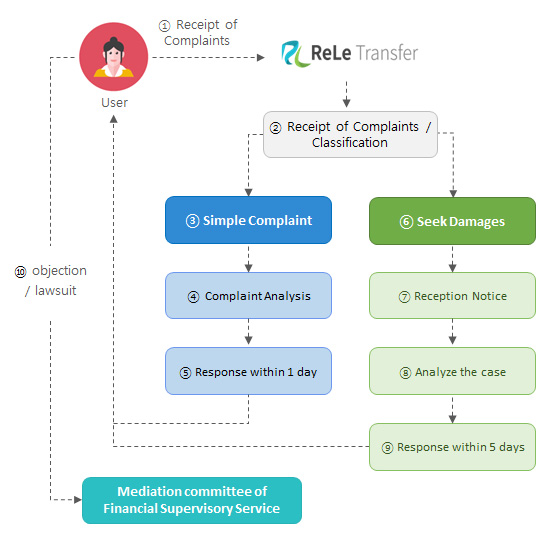 5. Refund of Overseas Money Transfer
① If the remittance cannot be processed within 15 days when it's not the customer's fault and the remittance is expected to be reversed, the refund will be made within 5 business days from the date of confirmation.
② If a refund is impossible due to a customer's mistake, the customer will be notified immediately of the circumstances and will not be refunded.